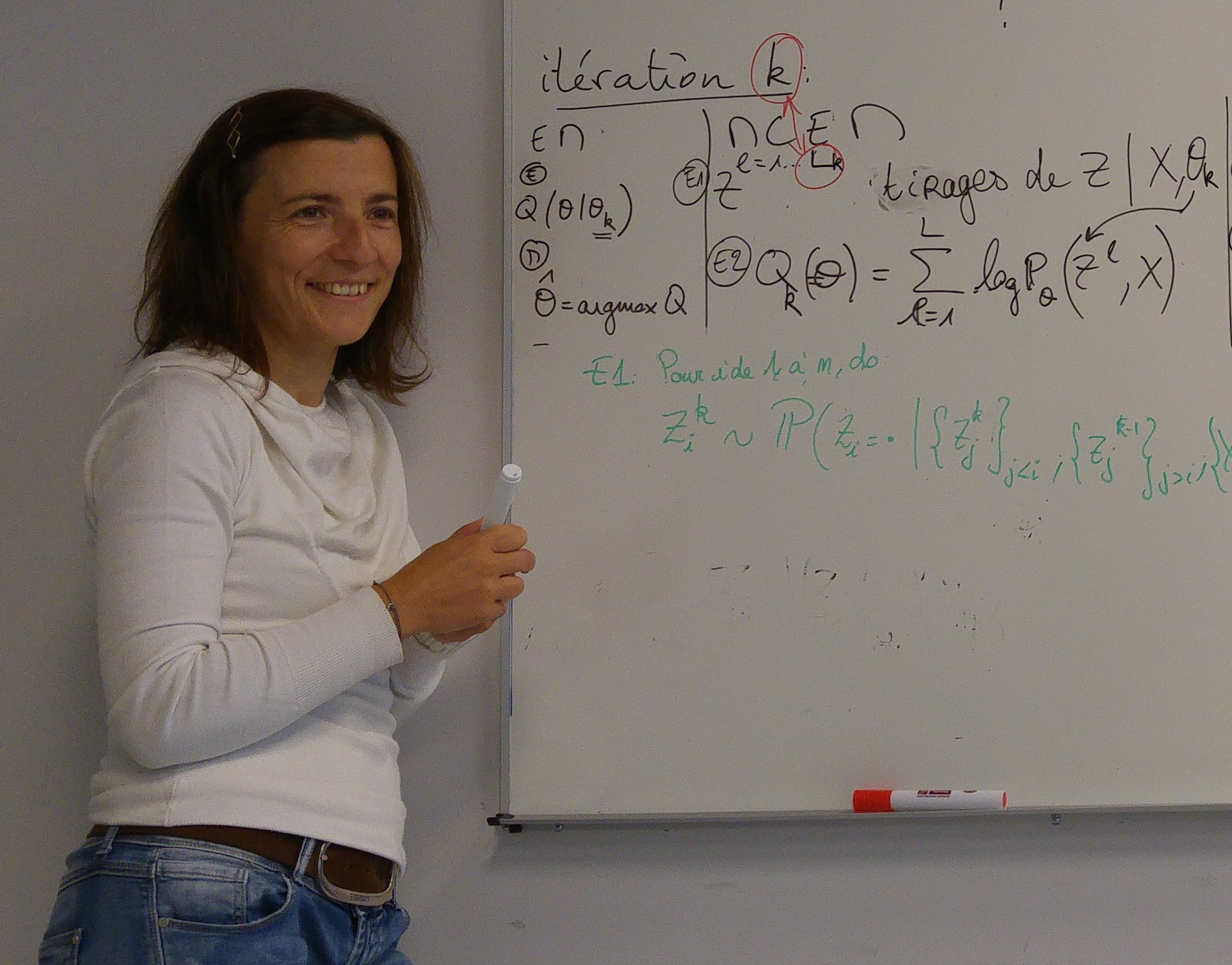 My office
Sorbonne Université - Campus Pierre et Marie Curie
Tours 15-16, Bureau 212 (2ème étage)
Address
Sorbonne Université - Campus Pierre et Marie Curie
Boite courrier 158
4 place Jussieu
75252 PARIS Cedex 05, FRANCE
Research contact

+33 (0)1 44 27 70 43
NOTE: Starting January 2018, I am on leave as a scientific deputy director at INSMI.
Merci de ne pas utiliser les mail/téléphone ci-dessus pour me joindre au sujet de l'INSMI.

Veuillez utiliser les informations de cette page.
Research
EcoNet project
The webpage for the EcoNet project can be found
here
.
Research themes
Biological networks: statistical approaches for infering, analysing and studying networks and their evolution.
Comparative genomics: sequence evolution, alignment. Models of co-evolution and co-phylogeny. Hosts-parasites systems.
Multiple testing, semi-parametric modeling associated to this framework (V.H. Nguyen PhD thesis).
Statistics for random walk in random environment.
Multi-states semi-Markov models. Applications to modeling dependency of elderly people (G. Biessy PhD thesis).
Publications in journals
Catherine Matias, Tabea Rebafka & Fanny Villers, A semiparametric extension of the stochastic block model for longitudinal networks. Biometrika, 105(3): 665-680, 2018. Journal link, Take a look at the Supplementary material (contains an important generalisation of the model), HAL preprint, R code with datasets analyses, R package ppsbm.
Laura Urbini, Blerina Sinaimeri, Catherine Blerina Matias & Marie-France Sagot, Exploring the Robustness of the Parsimonious Reconciliation Method in Host-Symbiont Cophylogeny. IEEE/ACM Transactions on Computational Biology and Bioinformatics. Journal link, Hal preprint.
NB: This is an extended version of that conference paper.
Ana Arribas-Gil & Catherine Matias, A time warping approach to multiple sequence alignment. Statistical Applications in Genetics and Molecular Biology, 16(2): 133-144, 2017. Journal link, Hal preprint. Codes available on request.
Vincent Miele & Catherine Matias, Revealing the hidden structure of dynamic ecological networks. Royal Society Open Science, 4:170251, 2017. Journal link, HAL preprint. NB: This is a popularization version of the previous work (Ref 25).
Unpublished manuscripts (in french)
Catherine Matias, Statistique asymptotique dans des modèles à variables latentes. Habilitation à diriger des recherches, Université d'Évry val d'Essonne, 2008. pdf link
Catherine Matias, Estimation dans des modèles à variables cachées, Thèse de doctorat (sous la direction d'Élisabeth Gassiat), Université Paris XI- Orsay, 2001. pdf link
(Some) Conference Slides
PhD Students
Present
Léa Longepierre (UPMC ). Sujet : Analyse statistique de graphes aléatoires dynamiques. Début : Octobre 2016.
Past
Teaching
New
Formation via CNRS Formation Entreprises : Analyse statistique des réseaux. Cette année, la formation aura lieu du 28 au 30 novembre 2018. Accessible sur inscription.
Plus d'infos ici
.
Previous
Responsibilities
Others links/info
Seminars
Journals / Bibliography
Others (maths related)
Climbing